Recycled Plastic Yellow Baby Chicken - South Africa
These baby chickens are so cute! Made from scraps of sheets of plastic, this little chick is yellow with a red comb and blue feet. Averaging about 3 inches tall, the chicken is the quintessential example of township art.
Meet the Artisans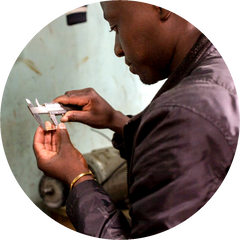 Township Art is made across South Africa and Zimbabwe, Pieces in this category are made by a variety of artisans. The beaded animals are imported from South Africa but the artisans of Mhotsi Arts a co operative of twelve people,eight men and four women are situated in Chitungwiza,a township 15 kilometers south of Harare in Zimbabwe. The cooperative was formed in 2004 to enable market access to the North American market. During recent years daily life for the artisans has become more difficult as exporting from Zimbabwe has become a challenge leading the group to export from South Africa.
Other pieces come from The Bat Shop and Gugu Crafters in South Africa.
---
Share this Product
---
More from this collection